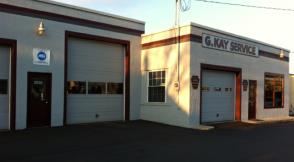 964 West Main Street

Mount Joy, PA  17552




We employ ASE Certified Technicians


Read what our customers have to say:

waltm, ELIZABETHTOWN, PA

Once again, George and his crew keep us moving! That's why we've been using G Kay Service exclusively since moving here in 1991.

mattc, MOUNT JOY, PA

Great service. They called me by name when I came to pick up my car and they went above and beyond to make sure everything was right. Thanks Mark and George!

bobf, MOUNT JOY, PA

Very Happy with the professional atmosphere of the staff and the quality of service that is given. I can always count on the work being done correct. Thanks for the high quality of your work.

bobb, MOUNT JOY, PA

I have a 20 year old truck that's in good shape. my remote entry control box quit working. George tracked down a replacement & it worked again. Since the truck is so old I was very happy with the service George gave me. You can't beat that kind of service anywhere else in my opinion. Great job guys!

marciar, ELIZABETHTOWN, PA

The mechanics worked after usual closing time to get the vehicle's brake work done the same day

dwightb, MANHEIM, PA

Appointment reminder, prompt attention to car, phone call upon completion, detailed information about service, payment as predicted. All well done!

chrism, MARIETTA, PA

George and his crew have been working on my family's cars for about 15 years. They're always honest and straight forward and I trust the work they do. I set an appointment and on that day my car is usually done by noon. My car has a problem? they diagnose and fix it and they back their work with great customer service. Why else would I continue to take my cars there? Thanks G-Kay.

karenh, LANCASTER, PA

I would highly recommend G. Kay Service. George and all of his staff are fantastic.George is always willing to answer any questions you have, and will explain any situation you might not understand. He is extremely honest and a master mechanic. He searches until he finds what's wrong and confirms the problem.

bobs, MOUNT JOY, PA

George: For the first time since I own my GTI the "engine service light" is staying off! Good work!!!! Also, the new tires seem fine; thanks for saving me $200 on them! 


jiml, EPHRATA, PA

I can recommend G Kay highly! Why? How about: first, these are car guys. That alone should be enough. However, in my recent service with them they were able to quickly find the source of my air conditioner issues when another shop took an hour to diagnose the problem and couldn't figure it out. They also repaired or replaced exactly what I asked for and didn't try to upsell me or suggest other unnecessary service. Finally, when my daughter asked George about the cost of a head gasket replacement, he quickly noted that while G Kay could do the work, another shop might be less expensive due to their specialty in the make. How can you not like these guys? Thanks George and Mark!